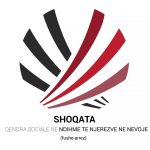 ---
Description
The purpose of the organization
Empowering the Fushë-Arrëz community and northern areas through information, education, and awareness programs, community services, environmental protection, and advocacy.
Our scope
Support and care for Children, Youth, Women and the Elderly with social and health problems through various integration, cultural and financial assistance.
Conducting computer courses, learning foreign languages, sports activities, cultural education for different ages, mechanics, electricity, hydraulics, kitchen, tailoring, woodwork, etc.
Organizing various activities and awareness campaigns to support families below the subsistence level.
Cooperation in various fields with domestic and foreign counterpart organizations and associations. Organizing seminars, meetings and various conferences for the development of the activity of the association.
Undertaking awareness campaigns for the design and implementation of projects for environmental protection, forests and flora and fauna in our country.
Creating entertainment facilities for association members.
Advocacy and awareness initiatives for environmental protection, gender equality, youth empowerment, protection of human rights and animal protection, etc.
Geographical Region
Shkodra Region, Municipalities of Vau i Dejës , Puka and Fushë-Arrëz
Contact
---