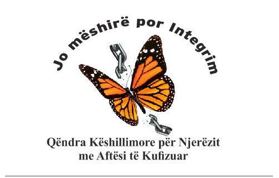 ---
Description
The purpose of the organization
To discover alternatives for improving the lives of people with disabilities.
To sensitize the public and educate it.
To draw the government's attention to the problems of these persons.
Our scope
Mental and physical rehabilitation of potential persons.
Involvement in vocational training projects to increase their capacity, for employment opportunities, in the public, private sector and in their homes.
Education of all possible persons, according to the possibility and circumstances, in which they are currently.
Involvement in physical and vocational training of persons who in the family serve the disabled and therefore do not progress in their lives.
Equipping with the necessary mobility tools for the physically disabled.
Awareness activities, in residential institutions and family invalids. Cooperation with Local Government Bodies for sensitization and increase of staff capacity.
Continuous training of staff, employees, teachers, to respond to customer service.
Geographical Region
In Northern Albania, the Region of Lezha, Shkodra and Kukës.
Contact
Legal representative of the organization, Antonjeta Pero
E-mail: antonjetapero@gmail.com
---